Luxury break winner gets set to jet back to Orkney
The Orkney Islander magazine is pleased to announce that the winner of their luxury break to Orkney for two is Victoria Chanter, from Epsom. The competition — which invited people to submit no more than 30 words on what they love about Orkney — attracted several hundred entries. In the end, Victoria's entry caught the eye of the team at the magazine, who read every single submission last week before coming to a decision. "Victoria's entry really conjures up a lovely impression of Orkney, and so many of the elements that we can all relate to when we think of being here," said editor of the magazine Leah Seator. "From weather to wildlife, stunning land and seascapes — and even some of Orkney's famous delicacies — Victoria manages to give a real sense of what makes the place special in a mere 28 words! We loved her entry, and think she is very deserving of a special break here."
Having been to Orkney in the past, Victoria knows full well what a treat she is in for. "We were there earlier this year, and so we are looking forward very much to coming back to explore more," she said. "There is so much to see there, and time goes so quickly you never get a chance to see it all. I can't wait to come back," she added. Victoria, 34, has friends in Orkney, and so she will also catch up with them — and she has revealed that she actually plans to relocate to the islands in the very near future.
The prize, for two adults, includes:
A pair of return flights from Edinburgh/Glasgow/Inverness/Aberdeen to Orkney, between November, 2017, and March, 2018.
Car hire courtesy of Drive Orkney.
Two nights' luxury accommmodation with hot tub at Grukalty self-catering in Birsay.
A Peedie Hamper from Judith Glue (www.judithglue.com)
One night's dinner, bed and breakfast at the Lynnfield Hotel.
In all, the competition attracted an overwhelming response, with entries from all over the world, according to Leah. "We were bowled over, not only at how many people want to come to Orkney, but at all the wonderful things people have to say about the place," she said. "It was really lovely to read so many glowing reviews from those who have been here — and, in turn, all the fantastic impressions of people who have yet to visit. "It is also brilliant to see the reach of the magazine — a great sign for our advertisers, who know the value of featuring in the publication year-on-year, but mainly for the reason that it takes the good word about Orkney to all corners of the world.
"We wish to sincerely thank all those who have made this competition possible — Judith Glue, Drive Orkney, Loganair, Grukalty Self Catering and the Lynnfield Hotel. "Combined, this truly was a one-off prize, marking our 30th edition in style, and no doubt giving our worthy winner a trip to remember."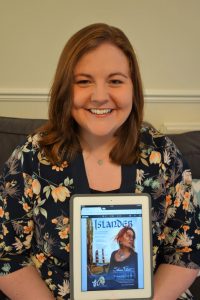 WINNING ENTRY BY VICTORIA CHANTER
Wind beat cheeks,
Rain washed streets,
Basking seals,
Happy squeals,
Vast beaches,
Open reaches,
The Orcadian smile and friendly nudge,
Over whisky or gin or
Great Orkney Fudge.